OUR MISSION
We believe that expert product knowledge is essential for effective sales. As a result, we ensure our team has hands-on experience with all of our products before going into the field.
We fully identify the unique benefits of our manufacturers' products before executing joint calls with distributors to create business at the end-user level. This allows us to produce substantial sales in every channel we cover.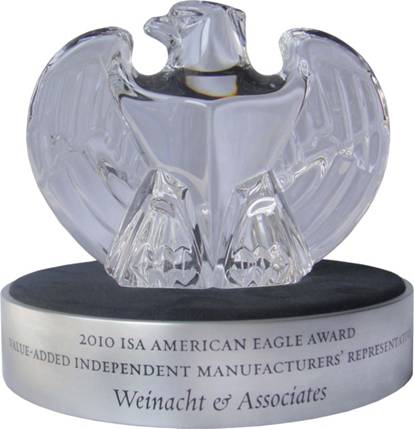 AWARD WINNING SERVICE
OUR AWARDS
Through the years, Weinacht & Associates has received numerous industry awards for outstanding sales, professionalism, and performance.
Weinacht & Associates won ISA's prestigious American Eagle Award in 2009 and 2010. The American Eagle award demonstrates how manufacturers, distributors, and manufacturer reps work together to create cost savings and productivity improvements for end-users. Weinacht was the first manufacturer rep firm to ever win this award twice.